For All the Tea in China:
How England Stole the World's Favorite Drink and Changed History
by Sarah Rose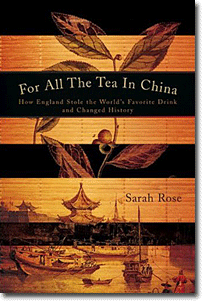 From Kew Gardens to grimy Old Shanghai, and on to the remote Wu Yi Shan hills, Sarah Rose tells a true tale of pirates, rebels, subterfuge, espionage, and how one man triumphed over an exotic and corrupt Empire.... Robert Fortune was a Scottish gardener, botanist, plant hunter -- and industrial spy. In 1848, the East India Company engaged him to make a clandestine trip into the interior of China -- territory forbidden to foreigners -- to steal the closely guarded secrets of tea. For centuries, China had been the world's sole tea manufacturer. Britain purchased this fuel for its Empire by trading opium to the Chinese -- a poisonous relationship Britain fought two destructive wars to sustain.... The Chinese interior was off-limits and virtually unknown to the West, but that's where the finest tea was grown -- the richest oolongs, soochongs and pekoes. And the Emperor aimed to keep it that way.