Sea and Smoke: Flavors from the Untamed Pacific Northwest
by Blaine Wetzel and Joe Ray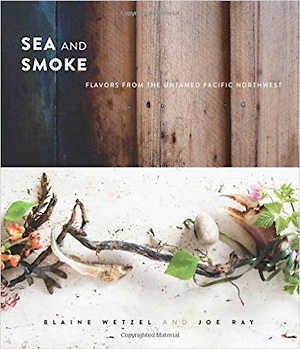 Sea and Smoke is a travelogue chronicling the plucky ambition of a young chef determined to create a world class dining destination in an unlikely place. A native of the Pacific Northwest, two-time James Beard winning chef Blaine Wetzel saw Lummi Island, with fewer than 1,000 residents, as the perfect vehicle for his brand of hyperlocalism: a culinary celebration of what is good and nearby and flavorful. Now, a reservation at The Willows Inn is one of the most sought-after in the world.

The smokehouse, the fishermen, and the farmer yield the ingredients for unforgettable meals at The Willows, reflecting the foggy, sea-salty coast that surrounds the island. The tale of the restaurant's rise to the top is told by award-winning journalist Joe Ray, who immersed himself in life on Lummi Island for a year, documenting how it all comes together to make The Willows Inn one of the world's great destination restaurants.

Sea and Smoke: Flavors from the Untamed Pacific Northwest
Blaine Wetzel and Joe Ray, Authors
Publisher: Running Press (October 2015)
ISBN 978-0762453788
About Joe Ray:
Joe Ray has been writing and shooting food and travel stories around the world for more than fifteen years. His work has appeared in publications including The New York Times, The Wall Street Journal, WIRED Magazine, and The Guardian.

In 2007 and 2008, Joe was nominated by The Boston Globe's Travel editor for multiple awards with the Society of American Travel Writers and in 2009, he was awarded their top prize: the Lowell Thomas Travel Journalist of The Year. He lives in Seattle.