AN ELEGANT WILDERNESS:
Great Camps and Grand Lodges of the Adirondacks, 1855-1935
by Gladys Montgomery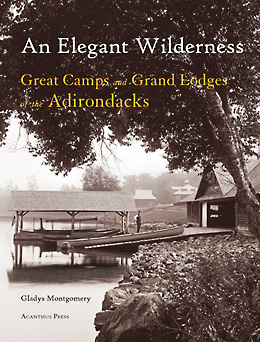 An Elegant Wilderness: Great Camps and Grand Lodges of the Adirondacks, 1855-1935, by Gladys Montgomery, provides a unique, evocative view of the private retreats of the Gilded Age industrial rich who traveled to the North Woods to experience the wilderness. Transported in private Pullman cars, wealthy urbanites arrived with French chefs, retinues of servants, tennis and singing coaches, chauffeurs, secretaries, and famous houseguests. Light-years away from other upscale resorts, the Adirondacks was a place where social proprieties relaxed, where men hunted in deer-filled forests, women shed their corsets to hike, hunt, fish, and play tennis, and children learned to love the great outdoors.

Rustic architecture was one aspect of their experience. On the shores of the region's shimmering lakes, in high style log lodges with dozens of bedrooms, massive fireplaces, icehouses and boathouses, railroad tycoon Collis P. Huntington, mining magnates Adolph Lewisohn and Daniel Guggenheim, financiers J. Pierpont Morgan and Otto Kahn, New York governor Levi Morton, and philosopher William James relaxed, networked, and socialized. Women camp owners included Lucy Carnegie, Margaret Emerson (Vanderbilt), and Marjorie Merriweather Post. For them, a "camp" in the Adirondacks was the woodland equivalent of the opulent "cottage" in Newport.

Published by Acanthus Press in collaboration with The Adirondack Museum, An Elegant Wilderness is the first book about the North Woods to combine architectural, social, and cultural history, biography, and nearly 250 archival photographs of rustic homes, idyllic lakes, and recreational pastimes, most published here for the first time.

Critically acclaimed and widely admired, An Elegant Wilderness earned The Victorian Society of New York's 2011 Book Award and the Adirondack Writing Center's Adirondack Literary Award for Non-Fiction.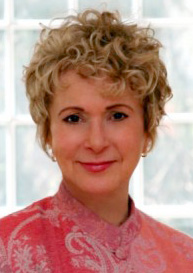 An Elegant Wilderness: Great Camps and Grand Lodges of the Adirondacks, 1855-1935
Gladys Montgomery, Author
Acanthus Press (July 11, 2011)
ISBN-10: 0926494473
ISBN-13:978-0926494473
About the Author:
Gladys Montgomery is an award-winning writer and editor. The author of five books and the founding editor of Berkshire Living Home + Garden, she has penned more than 200 magazine features about architecture, design, antiques, and historic buildings, which have appeared in regional, national, and international publications. In 2007, she translated this expertise into a real estate career with The Kinderhook Group in Stockbridge, Massachusetts.