GETTING NAKED FOR MONEY: An Accidental Travel Writer Reveals All
by Edie Jarolim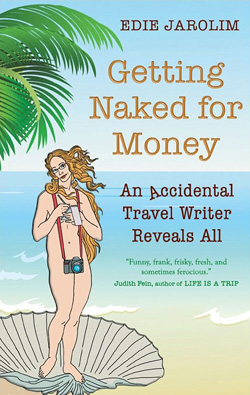 The story of how a Brooklyn-born poetry Ph.D. moved west and found her mojo, Edie Jarolim's wickedly funny memoir spares no one she encounters, least of all herself.

Jarolim tells tales from both sides of the travel editor's desk: As an in-house guidebook editor in New York (Simon & Schuster/Frommer's and Random House/Fodor's) and London (Rough Guides), and as the freelance author of three guidebooks and hundreds of travel articles, many for national publications. But the author isn't a typical travel journalist. She has no sense of direction, is afraid of heights, and is a klutz. She also had a phobia of driving, which she overcame.

Judith Fein, author of Life Is a Trip, calls Getting Naked for Money, "Frank, funny, frisky, fresh, and sometimes ferocious." She says "Go with this nice Jewish girl around the globe as she strips at a nudist resort in Palm Springs, has sex on the job in Egypt and Mexico, takes a perilous ride down into the Copper Canyon, drinks, laughs, cries...I had a hard time putting this book down. It's engaging on all levels."

Getting Naked for Money: An Accidental Travel Writer Reveals All
Edie Jarolim, Author
Publisher: The Invisible Press (October 2016)
ISBN 978-1-5374150-4-8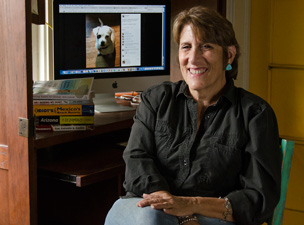 About Edie:
Freelance writer Edie Jarolim lives in Tucson, Arizona, where she is the Contributing Dining Editor for Tucson Guide. She earned a Ph.D. in English and American literature from NYU; worked as a guidebook editor in New York and London; published myriad travel articles, three travel guides, and one dog guide. The discovery that her great uncle sold meat to Sigmund Freud in Vienna led her to create a genealogy blog, FreudsButcher.com. Learn more about Edie, her dog, and her new memoir at EdieJarolim.com.