Driving Lessons: A Father, A Son, and the Healing Power of Golf
Steve Friedman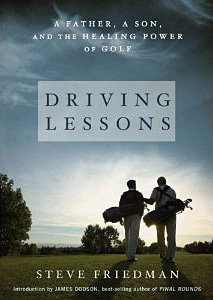 "For generations, fathers and sons have trudged emerald fairways together in a lacerating enterprise called golf. Steve Friedman does a marvelous job writing about one such improbable outing, in which nine holes of spirited hacking bridged an aching gap between him and his dad. 'Driving Lessons' is a good read about a good walk, unspoiled."
- Carl Hiaasen, author of
"The Downhill Lie: A Hacker's Return to a Ruinous Sport"

"Steve Friedman is one of the best American chroniclers of the intersections between 'shallow' sport and deep feeling, and in Driving Lessons he's at the top of his game. Here it's golf--a sport beloved by the author's father and despised and resisted by the son for nearly a half-century--that brings these two very different men, despite tangled ambivalence and resentment on both sides, to appreciate each other. A frank, poignant, blessedly unsentimental little book about the way sport can serve, for a father and son divided by a common history, as a shared language."
- Michael Griffith, author of "Spikes"
Driving Lessons:
A Father, A Son, and the Healing Power of Golf
Steve Friedman
Rodale Books (May 10, 2011)
ISBN-10: 1605291250
Amazon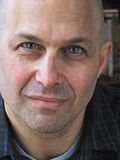 About the Author:
Steve Friedman is an author and journalist living in New York City. He grew up in St. Louis, Missouri, and graduated from Stanford University. He has written for Esquire, GQ, Outside, The New York Times and many other titles and is Writer at Large for Backpacker, Bicycling and Runner's World. His stories have been anthologized in "The Best American Travel Writing" and "The Best American Sports Writing" as well as other collections. His Modern Love column was the first ever published in The New York Times.

Steve's next book, "Lost on Treasure Island: A Memoir of Longing, Love, and Lousy Choices in New York City" comes out on June 1. Visit SteveFriedman.net.