The Dog Lover's Guide to Travel:
Best Destinations, Hotels, Events, and Advice to Please Your Pet-and You
by Kelly E. Carter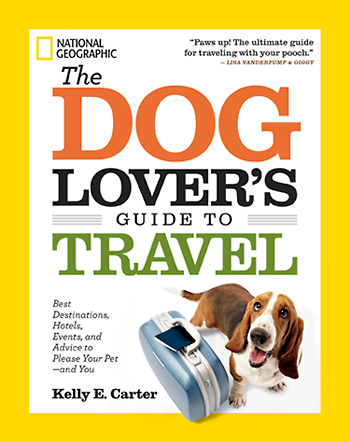 THE DOG LOVER'S GUIDE TO TRAVEL begins with basic advice for pet parents looking to take a vacation with Fido: How to determine if your dog is ready for a trip; how to select the right carrier and appropriate travel gear; what to know before booking a flight with your pup. Carter also shares her knowledge of what travelers and their pets can expect at hotels, airports, the beach, on the trail and more. The book is then divided by region, showcasing 75 pet-friendly cities across the United States and Canada, from Sanibel Island, Fla., to Whistler, British Columbia. In each city, Carter highlights the best pet offerings, from top hotels to perfect parks to trendy pet shops and doggie bakeries. Special features include walks to take with your dog, insider tips from local pet owners and sidebars detailing unique opportunities available only to people with a dog in tow.
The Dog Lover's Guide to Travel: Best Destinations, Hotels, Events, and Advice to Please Your Pet-and You
Kelly E. Carter, Author
Publisher: National Geographic (2014)
ASIN: B00JN8HXFA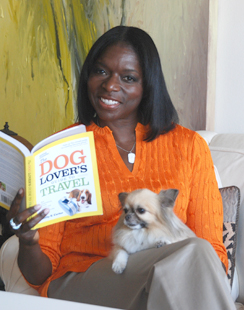 About the Author:
Kelly E. Carter and her lovable longhair Chihuahua, Lucy, have been practically inseparable since first meeting at an airport in 2001. The two have traveled together throughout the United States, Canada, Mexico, the Caribbean and Europe, stopping over in Italy for two years. Inspired by her pooch and her desire to help others travel with their furry friends, Carter founded TheJetSetPets.com, where she gives the inside scoop for pets on the go. A popular speaker at travel conferences, Carter is also the pet travel expert on AOL's pet site PawNation and a contributing editor at Elite Traveler magazine. Formerly a celebrity reporter at People magazine and USA Today, where she also covered sports, the Los Angeles native has written for numerous publications. She teamed up with tennis phenom Venus Williams to co-author the New York Times best-selling book "Come to Win: Business Leaders, Artists, Doctors, and Other Visionaries on How Sports Can Help You Top Your Profession". Carter and Lucy reside in San Francisco.