Adrift: Charting Our Course Back to a Great Nation
William C. Harris and Steven C. Beschloss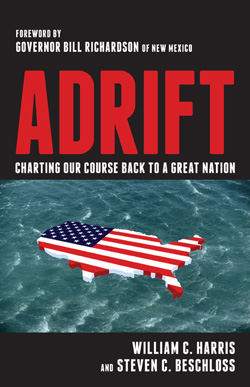 What has gone wrong for America and what can we do about it? Americans have begun to wonder whether our best days are ahead of us or are now past. Yet at a time of clear urgency and grave need, the nation's politicians seem increasingly unable to get beyond ideological battles and provide genuine leadership. Is this any way to run a great country?

"Compared with other times in our history, there is now more reason to wonder whether America can take the steps that would lead it back toward a path of innovation, opportunity, solvency, and promise. William Harris and Steven Beschloss do a systematic and convincing job of showing how Americans can make these changes-and what will happen if we don't."
- James Fallows, national correspondent of the Atlantic

"Adrift is a wake-up call for Congress and President Obama."
- Ernest (Fritz) Hollings, former US senator South Carolina

"Adrift is a tour de force of the economic and social changes the United States is facing."
- Erich Bloch, former director National Science Foundation

Watch the Fox Business and MSNBC interviews.
Adrift: Charting Our Course Back to a Great Nation
William C. Harris and Steven C. Beschloss
Prometheus Books (June 30, 2011)
ISBN: 1616144033
Amazon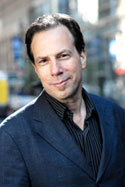 About the Co-author:
Steven Beschloss is an award-winning journalist and filmmaker who has written about business and economics, urban affairs and international affairs, as well as travel and art, for the New York Times, the New Republic, the Chicago Tribune, the San Francisco Chronicle, Parade magazine, National Geographic Traveler and many others. Chosen Journalist of the Year in Virginia, honored for his writing by the American Society of Journalists and Authors, and nominated for a Pulitzer Prize, he has been based in New York, London, Helsinki, Moscow and Los Angeles.

Visit StevenBeschloss.com to learn more.