Austria's Mountains & Music
by Bill Giering
Austria is the homeland of Mozart, the land of the rugged Alps and a place a lot of people go to ski. But great golf in this obscure landlocked country in Europe? Golf and travel writer BILL GIERING found there is more than music in the mountains.

If you lift your eyes in most Austrian towns, above the chalets and Tyrolean houses where flowers spill gently in abundance over window boxes, you are drawn to the starkly beautiful but cold, stern mountains that surround you in places like Golf Course Schloss Fuschl near Salzburg and the Alps resort town of Seefeld in the Tyrol. Yet in these and in other mountain-rimmed towns, your heart softens as your view returns to the streets and the warm, smiling faces of the people you pass. Their nods seem to come directly from their hearts.

This contrast of emotions is wonderfully displayed in the mountain golf courses of these regions. But these rugged tracks are not for the faint of heart; few offer riding carts. You cannot be sure if it's the breathtaking views or the breathtaking climbs up and down the steep fairways that force you to pause and refocus before each shot.

At Golf Club Seefeld in the Tyrol, you are often faced with walls of 100-year-old pines that guard one hole from the next. Shade that wanders across the fairway affords a contrast in colors that is amazing. There you will find the excitement of hitting high irons that disappear on contact in the cool deep shades of the pines and then to finally reappear as the ball seems to explode in sky as it carries above the shade line, a brilliant snow white line against the blue Austrian sky. Time seems to stand still as the ball peaks, then majestically and gently, returns toward your target.

There and only there in the mountain terrain of Tyrol or Salzburg do your short irons turn to brushes, the sky to canvas and you to an artist softly painting pictures in the sky.

As a newly arrived golfer in the landlocked country of Austria, you will naturally gravitate toward Salzburg, with origins that date back 1,300 years. Don't be fooled by the notion that some 700,000 tourists roam around this cultural center annually. Few are golfers, which means plenty of room to play and plenty of other things to do long after the sticks are safely stored.

The city itself is like a living, breathing, open-air museum. The surrounding Alps, punctuated by the medieval fortress Hohensalzburg that sits on high as the archetypal guardian of the city, serve as more than just a backdrop. In this vertical world, they are the defining contours of the province, of which Salzburg is the capital. The food and culture are of such refinement that a lengthy stay is required to digest it all. Absorbing a little bit of the legend of the great 18th century composer Wolfgang Amadeus Mozart is a must. Salzburg's native son left behind a legacy of piano, violin and harpsichord concerts to be enjoyed by even the most ardent of golfers.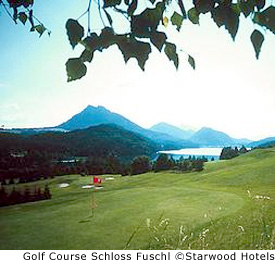 The number of golf courses within an hour's drive of the city center pales in comparison to the number of churches, castles, market places, squares and palaces that can be reached on foot from that spot. Still, there are enough courses among the province's dramatic topographic nooks and crannies to make it worth the treasure hunt. While most of the golf courses may never challenge--architecturally speaking--many of those designed by the great American or Scottish architects, those guys never had the Austrian Alps to contend with either.

What you will get is at least a dozen intoxicating golf courses within an hour's drive with little or no crowds and moderate weekday greens fees (from approximately $48 to $58 and slightly higher on weekends).

Of course, golf director Franz Schelhom could easily be a little apologetic about two or three holes at his Goldegg Golf Club, located about an hour outside of Salzburg in the charming little ski town of Goldegg. But he knows the other holes, along with his club's intimate atmosphere, more than make up for a couple of off-beat offerings. Get derailed by a par 5 with a hard slanted fairway and tight out of bounds to the adjoining pasture or clank a tree shot through a chute of trees requiring the accuracy of a Robin Hood arrow on a par 4 and you'll be mournful. But drown those thoughts in champagne and strawberries or sausages with mustard and a round of Steigl pints afterward, and any unpleasant thoughts of shots gone awry dissolve quickly.

The Austrian Alps punctuate every golf course in the western region of the country. And Schellhorn's golf course, complete with the sounds of mooing cows and the well wishes of strolling neighbors, may be the only one of its kind in the world with 18 different individual owners (each hole is on land leased from a different farm). And for those who care to partake, the after-golf feast at Goldegg's Seehof Gourmet Sport Hotel can be an all-time dining classic, complete with fine wine and a plate of savory beef goulash with fresh herbed quark spatzle.

Austria's musical culture is substantially about key, mood and tempo. Likewise, proper mood and tempo are critical when teeing it up in the shadow of the Austrian Alps. The two golf courses that will truly take your breath away are the Golf Club Zell am See, with 27 holes and a nearby ski area providing some of the region's best downhill action, and the Golf Club Mondsee, located in Salzburg' popular "Sound of Music" region.

The name Zell am See is translated into the expression "church by the sea." What the name doesn't provide is a description of the snow-covered peaks that encompass you, including the Kitzstein Glacier that remains that way year round. The setting is so spectacular that it has drawn visits from PGA Tour legends Jack Nicklaus, Greg Norman and Craig Stadler.

On the other side of Salzburg is Mondsee, a more traditional layout that comes closer to what one might expect to find in such a faraway land. Though relatively flat and straightforward as it plays below rock walls and around crystal clear lakes, Mondsee's last four holes produce a stretch run that is said to be the finest four finishing holes in the country in terms of a match play.

Other offerings include the Golf Club Eugendorf and the Hotel Golf Club Fuschl. Eugendorf is a "new generation" championship 18-hole course cut from the mold of something you would find close to home in the Middle Atlantic. Fuschl, meanwhile, is a particularly scenic nine-hole recreational course on the shores of the Alpine lake Fuschl and in view of the 15th century castle that now serves as a hotel. It is easily the most sentimental course of the bunch.

In the end, golf in Austria is not really about saddling up your tour bag on a motorized cart and playing the modern, totally pampered game.

It is about strapping your carry bag on your back or dragging a pull cart, up, down and around some of the world's most memorable terrain. It's a land where many of your golf strokes--as well as your brush strokes--have masterpiece potential.
HOME
LIBRARY
WRITERS CONFERENCES
ABOUT TRAVEL CLASSICS
CONTACT US
copyright 2000-2017 TravelClassics.com; all rights reserved.
web development: Dia Misuraca