Scottsdale-Phoenix Gastronomy
Husband-and-wife food writers experience fine Arizona resort hotel dining
by Fred Ferretti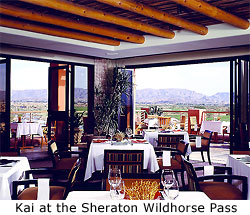 The flavors which dot the contiguous, urban-suburban, Southwestern desert sprawl in Phoenix and Scottsdale mirror, to be sure, the food fashions of much of the rest of the republic, yet at the same time there is a pleasurable leavening, the result of Arizona's Native American heritage and its traditional cowboy attitudes.
There are, as in most of the rest of the country, too many imitative California-Asian outposts not quite sure of what they ought to be about, except menu creation; too many "Italian rustic" restaurants that aren't; too many efforts to hop aboard rising trends; too many spas in this forest of spas that do their utmost to un-spa spa food, whatever that may be.
These noted, however, there are more than a few gustatory pleasures to be found in these two side-by-side cities, and on a recent visit we sampled and enjoyed tastes historical and classic, traditional and current. We loved the chewy elk jerky cured the way it has always been by the Native Americans in the kitchens of Sheraton Wild Horse Pass. We found the food at See Saw, under the skilled hands of Nobuo Fukuda, beautifully wrought, particularly when he set aside his sushi scalpel and ladled out his pumpkin puree soup topped with a tiny mound of crème fraîche, and later when he rolled thin slices of marinated sea bream in a cayenne mix -- sort of a seviche, Japanese style.
We thought the unexpected touches of Catalan, Spain, bestowed upon the foods of the customary Spanish Marquesa at the Fairmont Scottsdale Princess by Chef Jorge Gallardo of Barcelona, authentic and daring. Two standouts were the braised wild boar with lentils and the Serrano ham and daurada — that ubiquitous sea bream — in a vegetable soup laced with a sauce of sea urchin, not to mention well-kept Mahon and Cabrales cheeses we had with our Rioja. A lovely obiesance to tradition came one evening at Vu, at the Hyatt Regency Scottsdale, with plates of Chef William Bradley's thick and creamed shrimp bisque flavored with anise and finished with Cognac.
It was a pleasure of a different sort to have, from the T. Cooks at Royal Palms stoves of Gregory Casale, both a mound of mussels steamed in chardonnay and thyme broth — that harkened back to prior days at New York's The River Cafe — and a massive hamburger that could have fed two nicely, piled high with Maytag Blue-slathered beef, portobello mushrooms and crisp strips of pancetta, a composition which made me think instantly of the more-is-better hamburgers of Daniel Boulud.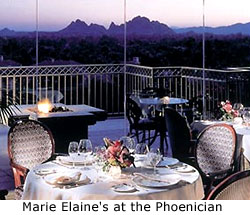 And speaking of Boulud, perhaps the most varied and ultimately satisfying meal of our Arizona excursion was in Mary Elaine's, in the Phoenician Hotel, where Brad Thompson, once a close assistant and collaborator with Boulud, cooks food with roots firmly in the French classics, with occasional personal touches which he has assimilated along the way.
It is not totally accurate to say that his French tutelage was entirely under Boulud, for he cooked before in Arizona with Vincent Guerithault at Vincent's on Camelback, later with Alessandro Stratta at Marie Elaine's. But Mary Elaine's is Thompson's tent now, and he is an accomplished ringmaster indeed.
Our meal in that elegant, almost baroque dining room was French, with variants, and grand, from Thompson's fine amuse bouche — a small fennel parfait garnished with sevruga cavier and a single green mache leaf, which we ate with glasses of Krug — to the meal's conclusion, in Thompson's kitchen, of several well-cellared cheeses complimented with aged Port.
In between, there were puréed beet borscht topped with a nice drop of vodka cream and Thompson's own smoked salmon dressed with white trout cavier; a tasting plate of large roasted sea scallops with bok choy and small bay scallops studded with pieces of apple and walnuts; and a Japanese whimsy, somen with uni — wheat noodles tossed with sea urchin and bits of preserved lemon. Lovely! He went south to Provence for a roasted rouget stuffed with black and green olives, tomatoes and capers, then north to Italy for a plate shared by potato gnocchi and taglitelle, both dressed with shavings of white truffles. A pie of rabbit and black truffles followed, capped with a perfect shortbread crust, then came the final course of what can only be thought of as a coda of pork — well-stewed pork belly with mashed parsnips and apples, browned pork cheeks with a Calvados sauce, and a firm pork farci of cheek meat and black truffles.
How grand!
It was only a couple of days after this meal that an Arizona dining poll selected Brad Thompson and Mary Elaine's as the Phoenix-Scottsdale best. I asked Thompson about this.
"Who would not be pleased?" he said, "but I do not consider what I do special. I cook what I've learned and tasted. If people who eat here think what I do is good, I'm happy. Of course."
It's good, Brad.
* * *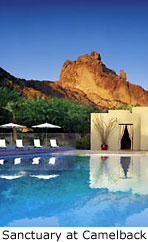 "I certainly hope they don't do a lot of brown boiled yams here," I said to my wife. "I want none of those mushy tofus either. That's the sort of Zen eating I've come to expect at places where they talk about balancing your core, cleansing your inner self, extending your peace, stuff like that. Nor do I think I need to have my Pilates reformed, and what on earth is a Watsu pool?"
"Here you go again, being silly. Again," my wife replied. "You are not permitting your mind to recept to its wildest extent. You are not welcoming. Your are being small. Again."
"Look at you, talking like them," I said. "I am not being silly. I am not even talking about opening my mind. And I do not think your repetition of 'Again' is at all effective. All I want is to eat good."
"Well," my wife added.
"Well, what?"
"You are using incorrect usage. Again. You want to eat well, not good."
"No, I want to eat good. Unshucked rice always scrapes my palate and macrobiotic yams, I have found, do not further my Qi."
"Hah!" said my wife. "Hah! Now who is using Zen jargon? Why don't you simply say you're hungry?"
"I'm hungry."
"Then we'll eat."
My wife and I just had checked into our casita at Sanctuary at Camelback Mountain, a quiet collection of low-slung, desert-buff cottage blocks that seem to sprout up into the Scottsdale desert and inch their way through the agaves and acacias, up to the slope of Camelback Mountain. Sanctuary was in, my wife informed me, Paradise Valley and the soft, serene setting of our casita, with its pale green and ebony environment, was whispering "Eastern" to her. To me it was cautioning against veganism. But my wife was happy.
She had pronounced herself quite pleased with the large feather-filled duvet on our bed, with the bottled water, with the cascade of berries running down the orange pile of clementines on our fruit plate, with our little box of chocolates, with the large fireplace that glowed with the flick of a switch, and happiest of all because a set of 10-pound dumbbells which she had requested was resting on our carpet. I was impatient for lunch.
"I've been talking to Bill, and he swears there will be neither yams nor mushy tofu," my wife informed me. Bill was Bill Nassikas, Sanctuary's owner and innkeeper.
"What about brown rice?" I asked.
"None."
So off we went, in anticipation, up the slope to Sanctuary's restaurant, elements, all timber and stone, jutting out over the beginnings of the Camelback slope, with the widest vista of the desert, there to eat, with Bill, foods prepared by his chef, Charles Wiley, an accomplished fellow it turns out, with a cooking sense embedded in the classics, but with a talent for happy matchmaking.
From his kitchen came the familiar — tians and jams, roasts and glazes, sauces and regouts, yet in his hands they became different, intense, fetching. An aioli, that traditional garlic mayonnaise, became a delight with touches of sesame oil and hijiki, that fragrant Japanese seaweed, and was used to dress a tian of cool lobster meat and avocado. A scallop of venison, grilled, was complemented with a cherry jam laced with garlic. A small bow to New Orleans Creole came from Wiley with fried, spice-hot oysters with a classic remoulade, this spiced with mustard.
The taste of a somewhat mundane filet of beef was heightened by its accompaniments — wood-smoked bacon, the mottling of Maytag Blue cheese and onions, roasted and glazed with balsamic vinegar.
"Well," said my wife as we ate, and shared, a traditional apple tart and a goodly slice of pecan pie, "what do you think?"
"My goodness," I replied.
"I haven't heard you say goodness in a long time."
"I haven't eaten this goodness in a long time."
"Good," she said.
"Goodness," I said. "Goodness."
* * *
The pizza as mission, as sacred trust — perhaps the only proper descriptives for the constant efforts of Christoforo Bianco. Call him Chris, this pizzaiolo from the Bronx, New York, who bakes his pies in his own ovens in Phoenix's Heritage Square, and will allow no one else near those ovens. Lucky Phoenix!
Days, Chris Bianco is at his other set of ovens on Central Avenue in mid-Phoenix, turning out fresh breads, smoked mozzarella over pecan logs, occasional porchettas, and perfectly marvelous sandwiches. Consider his warmed soppressate with aged Italian Provolone and peppers roasted in his ovens, packed into a thin, round loaf, a fine construction that gives new meaning to the tramezzini, the sandwich, to the panino imbottito, the filled roll, both so beloved in Italy. Lucky Phoenix!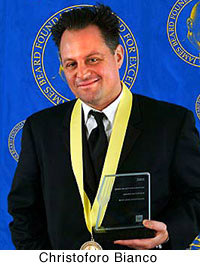 Chris, with his two sets of ovens, in Pizzeria Bianco and Pane Bianco, is a singular man who must, he says, make every one of his pizzas personally. "I can teach anybody to make any pizza," he says. "But to me it's like being a conductor. I'm in control. With my pizzas I have a handle on my life."
He was born in the Bronx, moved north when young, to the upstate community of Ossining. He was an asthmatic child who spent more hours inside than out watching an aunt cook, and by the time he was 13 he worked regularly in neighborhood pizzerias. By 16 he dropped out of school and became virtually an itinerant pizzaiolo. "Cooking was the only thing I wanted to do." Ten years ago he won two air tickets to any place in the country he might elect, and he picked Phonenix, perhaps because of his asthma, but whatever the reason he liked this city in the desert. "I felt connected," he says. He made mozzarella in his apartment for three different restaurants, "to pay my rent," and catered private parties, until he was given a corner place, and an oven from which his first pizzas came. It was on a brief move to Santa Fe that he met "my first great farmers, wonderful organic growers; they were a revelation to me."
His life, for a time, was divided between the southwest and Italy. "In Italy I saw all this beautiful produce in the Roman markets where my aunt lived, and out in the country with its good vegetables, good fruit, great oil. I felt really inspired by the food and its simplicity." Back to Phoenix he came, and with a partner, opened Pizzeria Bianco.
"There is nothing complicated about what I do," he says. "Sicialian oregano, the best. Organic flour. Only San Marzano tomatoes, whole, pulpy, not sauce. I use purified water and make my own mozzarella like I used to in the Bronx. Salt? I only use fleur de sel, sea salt, fresh yeast cakes and a bit of the day before's dough" as sort of a "mother" starter.
The Pane Bianco sandwich shop was fashioned from an old, abandoned beauty school. "We gutted it. We put in a large kitchen, big ovens. I do simple stuff. I have farmers grow for me. I just did a porchetta, a small roast pig, 50 pounds on the hoof. Gutted it, rubbed it with sea salt, added some blood orange, basil, garlic and rosemary, covered it with loose foil and let it roast overnight, slowly, in the ovens. It was beautiful." Lucky Phoenix!
* * *
The gastronomic pleasures of dining at the Arizona Biltmore, or of merely walking its public halls and grounds, inhaling the essence of Frank Lloyd Wright and his building blocks, are alone sufficient reasons to visit this striking, bold artifact of modern architectural history. However, when I was informed, in passing mind you, that the swimming hole outside the door to our room, just off to the right, was where Marilyn Monroe sunbathed and swam during the 50s, well, that was the frosting on the fantasy.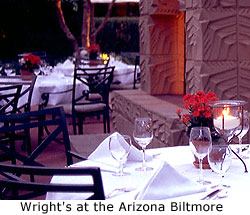 The pool is called The Catalina, and is surrounded by tall, arched palms and those square structures of cast "Biltmore Blocks" inspired by Wright, that house most of the hotel's rooms. The pool is paved and bordered with decorative tiles kilned on Catalina Island, the isle once owned, as was the Biltmore, by William Wrigley of the chewing gum Wrigleys, tiles which, when the pool's waters are calmed, look as if they were part of an Asian carpet. And there it was, Marilyn's pool. So, during our Biltmore visit I made it a part of every day to swim a bit, and sit in the sun, there to commune with Ms. Monroe. I left out Arthur Miller, and my communing was quite proper, I assure you, as I so assured my wife.
We also ate at the Biltmore one evening, in its small, bottled-lined Wine Cellar, just outside of the entry to its restaurant, Wright's. We dined with Chef Michael Cairns, an affable fellow who dotes upon his dining table, drinks good wines and tells good stories, all of which with evident enjoyment. And he cooks, it should be said, with considerable confidence and skill.
"I'm quite proud of what my kitchen puts out," he told us before dinner, suggesting that we eat a succession of his preparations that would demonstrate Wright's breadth. And so we ate fat sea scallops, crisply caramelized, along with rock shrimp, both resting atop a perfectly moist, slightly chewy risotto flavored with butternut squash. We ate maple leaf-cured duck, first its breast roasted and glazed with balsamic vinegar, then its preserved confit fashioned into "cigars," these eaten with juicy Black Mission figs from California. With the scallops we drank a perfectly wedded Sauvignon Blanc, with the duck a Napa Pinot Noir. "Good?" asked Cairns.
"Ummm," I said.
A salad of baby beets and local greens dressed with crumbled Roquefort and a hazelnut vinaigrette was a perfect introduction to a filet of sea bass, seared quickly to crispness, but not overcooked — a skill which seems to elude many of today's chefs — coupled with some fried gnocchi, quite like won ton, my wife suggested, both resting in a light broth of porcini and morels. Finally, before our soufflés, we ate a rack of roasted veal crusted with crushed walnuts. Superior modern cooking, I suggested to Cairns.
He grinned. "You think this was good. You ought to try my roasted duck hash with quail eggs. I do a terrific sundried cherry sauce with it."
"Next time," I said.
* * *
It is not a very long journey from Stresa up in the north of Italy on Lago Maggiore near the Swiss border — where Alessandro Cartumini began his formal training as a chef — to Milan. On the other hand, from Milan to the Arizona desert, where Cartumini cooks these days, is indeed a voyage. Yet he seems to have made the trips, short and long, with ease learning his craft and cooking as he went.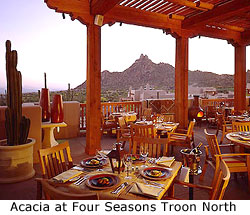 Currently the chef at Acacia, the spacious adobe brick and beamed restaurant at the Four Seasons Resort, in an enclave of Scottsdale called Troon North, Cartumini these days is about subtly changing the restaurant from a pure steakhouse to a restaurant where those who prefer, for example, poblano and cumin-flavored Dungeness crab cakes, crisped organic salmon from Scotland, or tiger prawns dressed with a Cognac remoulade will be as happy as others for whom a strip sirloin and a baked Idaho is a Saturday night out.
Cooking and change come quite easily to this man of northern Italy. At 14 he was apprenticed to an acclaimed teaching chef, Sergio Mei, before going on to cooking school in Stresa. He moved into the world of hotel kitchens by choice. "I tell you I love cooking in hotels very much. The teaching, the learning, the numbers, every night is different." He has been in the realm of Four Seasons cooking for more than a decade, first at the chain's hotel in Milan, then in Berlin and on Canary Wharf in London, where I first tasted his work.
Now he is at the Four Seasons Troon North, a mannered outpost of private casitas, where on a clear night the sky above is an overflowing jewel box of stars. It is a special place where on special nights guests are invited outside of the resturant to see those stars and planets through a magnifying telescope, this between cocktails and trays of Alessandro's canapés. They might even be asked, as my wife was, to sit down with the hotel's resident tarot reader, of whom it is said, by the hotel of course, meshes her cards comfortably with messages from the stars.
My wife sat with the reader and asked her if she could predict whether or not we would have a good meal that night. It was frivolous, I know, but she did it reluctantly, for me. The cards were shuffled, dealt, turned over. "Yes," said the reader. "You have come from very far?"
"Yes," my wife answered. "But what has that to do with what we should order?"
"Your husband is with you? He has come far too? You are married for a long time?"
"Yes," my wife said. "Yes, and yes."
"Do not order what he orders," the reader said. "It is what the cards say."
Well, my wife had some of those tiger prawns, which she said were pretty good, and I had a hot and sour Dungeness crab soup, which was not. "See," said my wife, "the tarot lady was right." But my lamb chops crusted with a lemon and basil paste were just fine, and my wife's bone-in ribeye steak was quite good as well.
"I didn't order what you did, did I?"
"No."
"Hah!" said my wife. "See!"
Then Alessandro sent out a taste of a Japanese-influenced dish he deemed quite special. It was. A prime beef tenderloin was basically seared on a smooth, extremely hot stone. It cooked perfectly and was served with Japanese pickled plums and a mix of ground salt and ginger, and some wasabi in soy. It was marvelous. And we both had it.
"So?" I asked my wife.
"I'll talk to the tarot lady on the way out," my wife replied. "Mabye get another reading."
HOME
LIBRARY
WRITERS CONFERENCES
ABOUT TRAVEL CLASSICS
CONTACT US
copyright 2000-2017 TravelClassics.com; all rights reserved.
web development: Dia Misuraca