Manhattan by Rickshaw
by Margie Goldsmith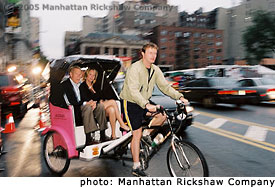 We were riding down Fifth Avenue, admiring the twinkling Christmas tree lights and decorations, astonished at all the attention we were receiving. Everywhere people stopped and smiled, pointing at us. Some waved. An instrumental version of Deck the Halls blared from a loudspeaker nearby. A big-bellied Salvation Army Santa Claus rang his bell and called out, "Merry Christmas, Ho Ho Ho." I'd never seen so many happy faces. People's grim expressions turned to joy the moment they saw us. A homeless man made the thumbs up sign and a woman with perfectly coifed hair wearing a mink coat stopped dead in her tracks and said, "What a remarkable idea," and shook her head in amazement. A group of Japanese tourists giggled and snapped picture after picture of us, their motorized zooms clicking.

I felt like Queen Elizabeth and wondered if I should do the Royal Wave, even though I knew it wasn't us they were looking at but rather our mode of transportation. We were riding in a pedicab: a bright red carriage with a black canopy attached to a 21-speed bicycle and pedaled by a husky bike rider. I had seen the ad that morning: "Manhattan Rickshaw Company . . .sensible . . . affordable . . .magical . . .reservations accepted for pedicab service."

It had caught my eye because I was looking for outdoor things to do with Brian, who'd torn his knee and was in a full leg cast, unable to walk. Apartment-bound for two weeks, he just wanted to get outside in the fresh air. That Saturday, we'd planned to go on a Circle Line sightseeing cruise, one of the few inactive outdoor opportunities in Manhattan, but we'd missed the only boat of the day. Instead, we took a carriage ride in Central Park that was unsatisfying because it was only fifteen minutes long. I thought how nice it would have been to be in a vehicle such as a golf cart so we could ride all over the city and look at the Christmas decorations.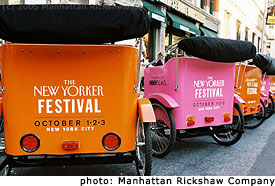 When I called the number of the pedicab company, the owner assured me there'd be plenty of room for Brian to sit comfortably with his leg fully extended. I reserved a pedicab for that evening. Perfect. New York at night, especially magical at holiday season. The price was fifty cents per minute, or thirty dollars an hour. Considering the buggy ride in the park had cost forty dollars for fifteen minutes, this was a bargain.

Steve, the pedicab driver, called that afternoon to confirm the pick-up address and discuss the itinerary. Unlike the horse and buggies in Central Park which do only the short loop past the skating rink and carousel, with a pedicab you make your own route. We decided on a full Christmas tour: past the gigantic overhanging light bulb Snowflake at 57th Street, down Fifth Avenue to Rockefeller Center, the windows at Saks Fifth Avenue, then cut across to Rockefeller Center, then cross-town to Times Square, Chelsea Piers on the Hudson Conservancy bike path, Greenwich Village, and back uptown.

I love New York at Christmas, especially the department store windows, extravagant pageants of twirling figures often dressed in 18th century clothing, depicting holiday scenes of a gentler time. The only trouble is, everyone else also loves the windows, and I've always had to stand in a crowded line to get near them. The same thing happens at Rockefeller Center when I walk through the archway off Fifth Avenue, full of wire angels and white reindeer on my way to the biggest Christmas tree in the country. The closer it gets to December 25th, the more crowded. Just thinking about being able to see New York at Christmas time without having to fight the crowds made the idea even more appealing.

At eight p.m. promptly the doorman buzzed. I hadn't told Brian exactly what we were doing — I'd told him that we'd be outside, and to dress warmly. He thought I was taking him up to the roof to look at the stars. When we arrived in the lobby, Met and Jerry, the white-gloved doormen, were more animated and excited than ever I've seen them. They're used to town cars and limousines pulling up in the circular driveway, but never before has anything as exotic as a bright red rickshaw parked at the door. They were like two kids, wide-eyed and giggling.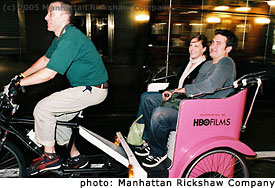 Met and Jerry took Brian's crutches and helped us into the small carriage where we bundled up in a red fleece blanket. In spite of the forty-degree temperature, Steve the driver was wearing only a T-shirt and shorts. He explained pulling the weight kept him warm, plus the terrain. "Most people think New York is flat, but it's really hilly," Steve said. He peddled us out of the circular driveway onto the street.

"How exciting is this?" I whispered to Brian. He shook his head in amazement.

"So, Steve," Brian asked. "Is this a full time job for you?"

"Oh no, I work days as an electrician for the Transit Authority, but I love biking, so I drive a pedicab a few nights a week."

We peddled to 57th Street and looked up at the glittering white snowflake. Usually I zip past the snowflake by taxi so fast I barely see it. But here we were in the open night air almost floating by. It reminded me of a huge white fireworks starburst which has opened and is now frozen in the air. We turned down Fifth Avenue, past the giant Menorah in the park next to the Plaza Hotel. We moved passed Tiffany's with its enormous silver door glittering against the streetlights and then continued past Trump Tower where another Salvation Army Santa Claus was surrounded by three trumpet players who were playing "Oh Come all Ye Faithful." "Look," Brian said, pointing to three Christmas trees perched way on top of the tower. He squeezed my hand, and we continued on to Cartier's, where a giant red bow covered the entire façade.

"Can you believe we're seeing New York like this?" I said. "This is so perfect. Here we are in the most exciting city in the world at Christmas, and we don't even have to walk." "Or peddle," he laughed, pointing to Steve.

Drivers and pedestrians smiled and pointed, and we waved back. "You see?" Brian said, "I always knew New Yorkers were nice underneath their hard shells. This proves it." We turned at 51st Street and rode straight past the gargantuan tree at Rockefeller Center, so close to it I could almost smell the evergreen. It was bigger than a townhouse and its strong branches reached out like fingers, covered with thousands of colored lights and glass globes.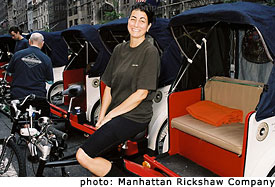 We continued west and looked up to see a string of blinking red and green lights lining a penthouse terrace. This was the first time I'd seen New York from a moving vehicle where the tops of buildings were not obscured by the roof of a car. I could even see stars in the sky! It was so dreamlike I couldn't believe this was the same city I thought I knew intimately. Now it seemed like a fairyland of lights sparkling everywhere like a city of diamonds. We arrived at Times Square, where advertisements in all colors of blinking lights blazed on every building. We could hear strains of foreign languages as the constant parade of tourists moved past on the sidewalk. I inhaled the woody aroma of roasted chestnuts and could almost taste them in my mouth. A taxi driver pulled up along side us and rolled down his window.

"I'm from Bangladesh," he said excitedly. "We have this in our country, too!" "Yes! Merry Christmas!" we called to him.

We left the pulsing kaleidoscope of Broadway color and headed downtown to Chelsea Piers, a huge sports complex whose piers juts out into the water. It was silent except for the sound of a basketball being dribbled on the cement sidewalk by a teenager. The night was clear and crisp, and from the Hudson Conservancy bike path we could look out at the twinkling lights of New Jersey across the Hudson River. We stopped at a red light and a limo driver pulled up and called out, "Want to trade?"

"Never!" we laughed.

We rode into Greenwich Village past the famous White Horse Tavern, a favorite saloon of Dylan Thomas. Its windows were covered in white frost and I wasn't sure if it was decoration or the crowd inside streaming up the windows.

At the square of Gramercy Park, matching green wreaths with big red bows and candles decorated the windows of many of the brownstones. I imagined it must have looked exactly like this one hundred years ago, the only difference being that then the candles were real, and now they were electric. On Third Avenue I looked up and there, like a rocket ship glowing in the darkness, was the Chrysler Building. "Look," I said to Brian, "I've never seen the Chrysler Building so silvery and high. It almost looks as though it wants to fly away."

"I've never seen anything like any of this," said Brian, and pulled the blanket tighter around us in the chilly night air. We turned onto a side street so quiet we could overhear the conversation of a couple walking down the street. A subway rumbled loudly underground. Third Avenue was full of smaller shops, many with decorations of Santas and miniature trees in the windows. The smell of pizza wafted through the air, making me hungry.

When we arrived back at the circular driveway of my apartment building, the two doormen ran outside the building and eagerly helped us out of the carriage. Met was holding Brian's crutches and handed them to him. They were beaming like two kids, and when I suggested they sit in the cab, Jerry hopped in but Met was hesitant.

"Oh come on," I said, "Get in. I'll take your picture."

Met jumped onto the seat grinning and playfully poked Jerry in the ribs. "I feel like Santa in my sled," said Jerry. Met pointed to Steve. "Then he's Rudolph the Red Nosed Reindeer!"

I have never experienced a Manhattan Christmas in such a unique fashion. Most of the time, New Yorkers are in a rush and are inscrutable about everything. They walk quickly on the sidewalk never smiling, and rarely look anyone in the eye. But on this night, riding the streets in a bright red pedicab, never before have I seen so many New Yorkers smile, lowering their guards as fast as a New York minute.
HOME
LIBRARY
WRITERS CONFERENCES
ABOUT TRAVEL CLASSICS
CONTACT US
copyright 2000-2017 TravelClassics.com; all rights reserved.
web development: Dia Misuraca